Stratog is a young Company that deals with production and selling of professional equipment for restaurants, pizzerias and bars.
Enjoying a solid experience in the production of electrical pizza ovens, Stratog offers to catering professional workers a line of convection ovens with humidification (P line) and a line, which combines convection and pizza static baking (D line) together. Stratog is in the neighbor of Padua, an area which is well supplied by Norther-East Italian junctions.
All our items - electric convection ovens and related accessories - are available in our showroom in Borgoricco (PD) and you can fix an appointment at any time to see the whole range of products.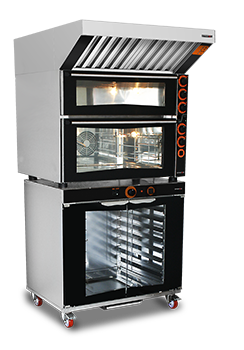 La gamma di forni per la panificazione e gastronomia, nasce dalla DECENNALE esperienza nel settore del reparto progettazione e produzione.
E'grazie ad una continua e dettagliata ricerca di innovazione e perfezionamento, che lo staff tecnico riesce ad incontrare le esigenze dei clienti piu' diversi, ai quali vengono garantiti costantemente attenzione per I dettagli e scelta di materiali di altissima qualita'e di provenienza locale, facendo del marchio STRATOG un vero e proprio prodotto 100% MADE IN ITALY.
La semplicità di utilizzo unita agli alti standard di sicurezza, garantiscono un prodotto non solo affidabile e duraturo, ma alla portata di qualsiasi "esperienza culinaria", dal pluristellato ristorante d'oltreoceano al piu' tradizionale laboratorio di pasticceria Italiana.
Ecco perchè tutti I materiali e la componentistica utilizzati sono conformi alle normative sulla sicurezza e l'igiene, che sono essenziali per un corretto utilizzo ed una corretta manutenzione da parte di operatori ed installatori.
L'amore per la tradizione ed il rispetto per la funzionalita'sono evidenti in ogni modello prodotto e rigorosamente testato, pronto cosi' per essere immediatamente operativo e al meglio delle proprie prestazioni !!!
E'filosofia di STRATOG offrire un marchio certificato che sia un riferimento nel settore Ho.Re.Ca., accogliendo ed interpretando le necessita' e le richieste utili e preziose per il continuo sviluppo di forni, lievitatori e attrezzature di gran qualita'.